Looking for space, comfort, as well as a touch of luxury? Your search is over.
This is the perfect home for you.
La Canela is one of its kind projects brought to you by VRS Suntec City Builders.
The development of the project is in a prestigious location with well-surrounded amenities in New Chandigarh near Mullanpur. New Chandigarh is one of the fastest "smart city" growing projects in the country.
The VRS La Canela project aims to bring a luxurious lifestyle at the most affordable prices to enhance the quality of the life of people. Hence it provides world-class facilities.
VRS La Canela floors are semi-furnished independent floors that provide true value to your money being a commercial hotspot to the location. La Canella project provides you
3 BHK and 4 BHK homes for a healthy open and spacious living that is perfectly visualized for a modern family.
VRS SUNTEC CITY LOCATION MAP :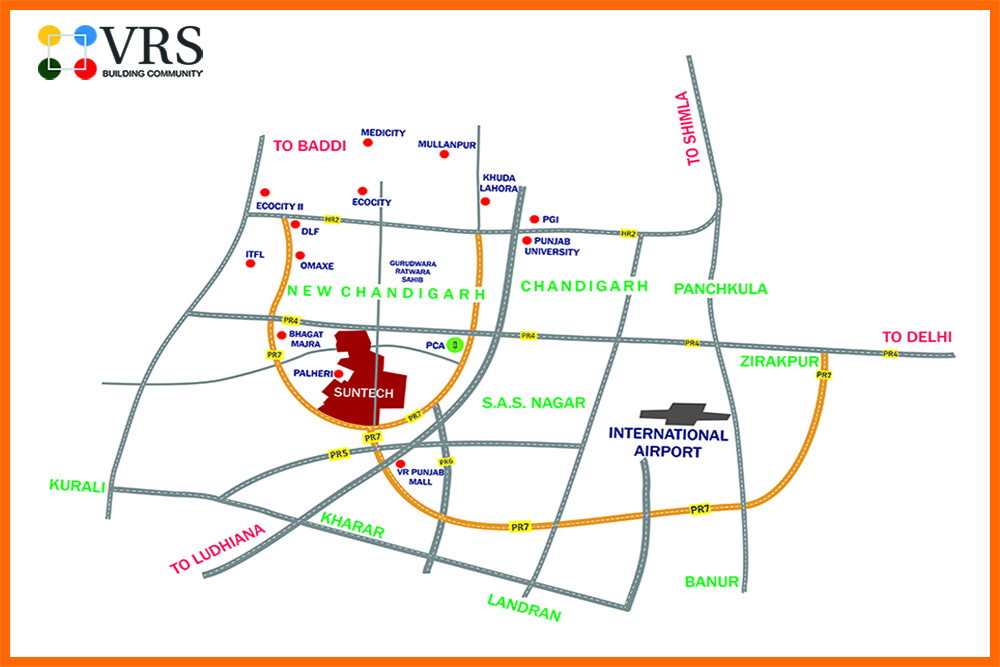 La canela features
Talking about the exquisite infrastructure, the structure of the project with stunning highlights and superb quality Stilt +3 low rise concept. So you can sip your tea while watching a beautiful sunrise, or admire the warmth of your home on a cool winter night while your dinner cooks in the brand new modular kitchen.
The exotic project is spread in sq. area. It provides a great price to the square footage. further adding to the promising goals of the project, it provides a rich green space for the people so that they wouldn't want to miss a refreshing morning walk to the club. Yes, the Suntec city floors also come with amenities like the
Club
Gym
Swimming pool
Jogging track
Mesh area
Tennis and basketball courts
Inner recreational area
our plan is to make a smart car parking system keeping in mind the use of precious space. All the floors are fitted with lifts so that not only the young but people at the ripe age and pregnant women have no problem in experiencing the utmost comfort and care in the precious and sensitive years of their life.
La canela amenities
Chandigarh is growing in every aspect. Hence the builders have come to become the innovation leaders in providing the best infrastructure with the presence of quality healthcare and educational institutions.
moreover, The place is being built at such a spot that people will never have to compromise on their time.
It is well connected to city lifelines like-
International cricket stadium- So that you never miss a match of your favorite cricket stars.
Airport road- You won't have to worry about missing the flights. It's a quick drive to the airport road.
PGI- Because of health matters most. So this place brings you the fastest connectivity for medical emergencies.
Punjab University- Now you wouldn't need to spend your money on hostels and PGs staying away from the family because of a short drive to the renowned Punjab university.
Chandigarh botanical garden- This place needs to be seen to be valuable
Resorts and rest houses- Who does not want to spend their lazy weekends on a far-from-city extravaganza.
banks, ATMs- Easy to withdraw your money from walking distance ATMs and banks
and many more…
An important aspect before everything, the first thing that comes to a mind is safety. How safe a place can be?
Well here in La Canella Suntec city floors, the gated community is structurally featured with 24*7 surveillance and highly trained security staff that promise the safety of your family. The project is being built to include all the safety measures and legal measurements with a quick call helpline services.
It is the perfect combination of expertise and experience and has a vibrant aura.
This place is in a fantastic location with public transportation, fastest home deliveries, and walking distance to a featured shopping complex.
This place is truly a stunning place with every upgrade and every feature.
FOR MORE INFO
HARRY DUTT 9855646392